What is Bush Poetry?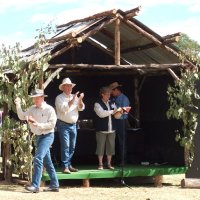 The Australian Bush Poets Association defines bush poetry as verse with good rhyme and rhythm about Australia, Australians or the Australian way of life. So the scope of bush poetry is pretty broad.

What distinguishes bush poetry from other poetry is the regular rhyme and rhythm (or metre). This is what makes bush poetry so appealing to audiences. It is, to a certain extent, more predictable and therefore satisfying for audiences. They know there is a rhyming word coming at the end of the next line and that anticipation is what keeps audiences interested and involved. Bush poetry often tells a story, which provides a distinct conclusion. This is not always the case with other styles of poetry. Bush poetry is usually recited, rather than read, so the presentation of bush poetry is an interactive performance not a "reading".

Bush poetry has a long tradition in Australia and that tradition should be continued. Most Australians were exposed to some form of bush poetry at school. Often it was from the more famous Australian poets such as A B (Banjo) Paterson, Henry Lawson, C J Dennis, John O'Brien, Thomas E Spencer, Will Ogilvie or others. There are many great Australian Bush Poets from the past and the writing of bush poetry is as old as white settlement in Australia.

The tradition of bush poetry continues today. There are many poets writing and performing bush poetry all over the country. Bush poets' breakfasts and performances are held at festivals, shows and events throughout Australia. Keep an eye out for one near you! As bush poets from the past wrote of matters of interest in their day, modern bush poets write about things as they are today. No longer is bush poetry only about horsemen, stockmen, bushrangers, swagmen and outback life. Subjects today include shopping, chainsaws, relationships, cars, drinking, work, sport, modern technology, toilets, even bodily functions! If it's part of daily life, chances are, there's a bush poem about it. For contact details of modern Bush Poets and a listing of some of their products see the Australian Bush Poets Association poets register.

Bush poetry endures today. Through performances and competitions, bush poetry in all its forms is being preserved and promoted. Whether it's traditional or modern, serious or humorous, there are writers and performers keen to keep the tradition alive and thriving. Gregory North is one of them.

Long live bush poetry!